We only buy converters from registered businesses and do not buy converters from individuals (We are not open to the public)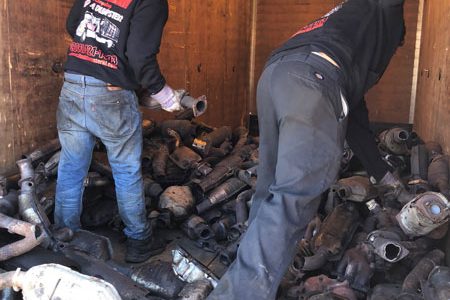 Are you looking to maximize your profits when selling your catalytic converter? If so, you've come to the right place! We'll provide you with the necessary information to ensure you get the most out of selling your catalytic converters for the right price. We'll discuss with you the factors that influence the price of catalytic converters, why we are the best place to sell your converters, and tips for maximizing your profits when doing business with us. With this knowledge, you'll be able to get the most out of your catalytic converter sales and maximize your profits.
When it comes to selling a catalytic converter, it is important to identify the right buyer for the job. With 22 years of experience in the industry, Christensen Recycling has what it takes to make sure that you are a satisfied customer when selling your catalytic converters to us. A catalytic converter is a device that converts harmful pollutants in exhaust gases into less harmful ones. It is an essential part of a vehicle's emissions control system, and as such, we have educated ourselves to become knowledgeable and experienced in the field as we understand the importance of the job that these emission control devices do in so that they are protecting the environment.
The first step in finding the right buyer for your catalytic converter is to research the precious metal markets. Converters contain valuable elements in them which are extremely costly with prices that are volatile. Converters contain Platinum, Palladium and Rhodium. We specialize in purchasing catalytic converters and all of our buyers are reputable, reliable and knowledgeable.
When it comes to negotiating the price of your catalytic converter, it is important to be reasonable. It is also important to be aware of the current market value of the converter as mentioned above, as this will help you determine a fair price.
Finally, when selling your converters to Christensen Recycling, we want to build trust with you so that we can help educate you so that you can be confident that we are providing you with the best possible price for your converters over time.
By taking the time that we do when visiting your auto repair facility to identify the converters and educate you, you can rest assured  that you are getting the best possible price for your converter. We will make sure that your converter is sold quickly and efficiently, and that you get the best possible return for your catalytic converters.
Christensen Recycling is proud to be the best in catalytic converter pricing & recycling in the nation. Give Christensen Recycling a call to schedule a pick-up… Find out what your catalytic converters are really worth! Free No Obligation price quotes!
Simply call (908) 421 – 1493 and speak to one of our representatives about catalytic converter pricing or Contact us.